Marvel at the similarities between a Tyrannosaurus rex and a BBQ duck, and join the battle to protect Australia's ancient reptilian inhabitants, all at Inspiring Australia's next Cafe Scientifique event, presented by BrisScience.  Eminent palaeontologists Dr Paul Willis and Dr Steve Salisbury will deliver two fascinating dinosaur-themed talks, and there will be opportunities to have all your dinosaur questions answered.
Sunday, 2 June 2013 from 1:00 PM to 3:00 PM (EST)
Queensland Museum Theatre
Queensland Museum and Sciencentre, Corner Melbourne & Grey Sts, South Brisbane (click here for map)
Time: 1pm, Sunday 2 June, 2013
Venue: Queensland Museum
Tickets: $10, available from http://dinosaurduck.eventbrite.com.au/
Questions? For further information please contact Andrew: a.stephenson@uq.edu.au
Dinosaur Duck Autopsy
Dr Paul Willis, RiAus Director
It is now firmly established that birds are descended from dinosaurs. If that's the case, then there ought to be numerous clues to this relationship in every chicken, turkey or duck you have ever eaten. To find out BrisScience, in partnership with Inspiring Australia, is hosting a Cafe Scientifique at the Queensland Museum. In this demonstration palaeontologist Dr Paul Willis, from RiAus, will dismember a (cooked) duck and show you what it has inherited from its dinosaur ancestors.
Dr Paul Willis is well-known as a science broadcaster with the Australian Broadcasting Corporation, presenting and producing on ABC television science shows including Quantum and Catalyst. Paul is passionate about informing, educating and amusing people of all ages and backgrounds about science and is keen to seize the opportunity to talk about science in a variety of public forums.  He was rewarded for his passion in 2000 when he was joint recipient of the Eureka Prize for Science Communication. Prior to his work in television, Dr Willis had a research career in vertebrate palaeontology, and was the resident palaeontologist on seven Antarctic expeditions. He has produced many academic reports and papers, has authored or co-authored seven books on dinosaurs, rocks and fossils, and has written many popular science articles for a variety of publications.
Conserving Australia's Dinosaur Heritage: Walking the Line in the Kimberley
Dr Steve Salisbury, School of Biological Sciences, The University of Queensland
As Australia's resource industry continues to expand, many aspects of our precious National Heritage are being placed at risk. Among these are areas that preserve important chapters in the story of Australia's unique dinosaur fauna.
Exciting new research by Dr Salisbury and his team has helped to highlight the significance of dinosaur tracks in The Kimberley region to the public at large, which contributed to the collapse of a $40 billion LNG development. But with the Western Australian government still determined to develop the area as a major port for onshore coal seam gas projects, the battle to protect Australia's dinosaur coast rages on.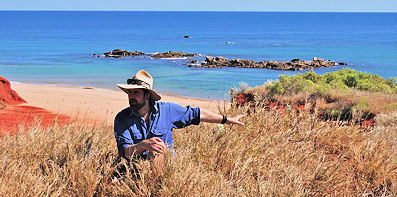 After travelling to Germany and the UK to complete his PhD on crocodilian locomotor evolution, Dr Steve Salisbury returned to Australia to pursue a life-long dream of searching for Australian dinosaurs. In 2001 Steve was a part of the team that discovered what was at the time Australia's largest dinosaur, Elliot the sauropod, whose study forms part of his current research programme. Steve is currently a Lecturer in the School of Biological Sciences at The University of Queensland, and a Research Associate at the Carnegie Museum of Natural History, Pittsburgh, Pennsylvania, USA.
Steve now conducts regular expeditions to Cretaceous vertebrate localities in central-western Queensland and the Dampier Peninsula in The Kimberley region of western Australia.  He is also currently involved in field-based research on the South Island of New Zealand and on the Antarctic Peninsula. His research has been the impetus for the establishment of a $1.5 million interpretive centre in the outback town of Isisford, central-western Queensland, and recently helped to secure National Heritage Listing of dinosaur tracks on the Dampier Peninsula.
For more information on BrisScience and other upcoming talks, please visit www.brisscience.org